Greetings.... I have been off my blog for a comparatively long time, because I've been extremely busy. But we're back on schedule now!
So today I was bored silly and decided to try a new recipe.
It's a chocolate chip recipe that is processed-sugar free (assuming you use RAW honey...) and it's so good!!!!!!

Because my family eats (mostly) dairy free, I made a 1-to-1 substitution of butter for coconut oil, but you don't have to.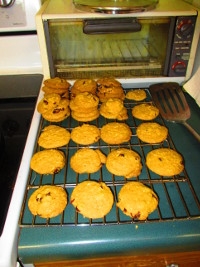 Also, as you can probably see from the photo to the side, I did not do chocolate chips. That is because 1/4 of my family is allergic to chocolate (oh horror of horrors!).

I plan to use this recipe as a good base to add in anything I feel like, which I think will work really well because, other than the chocolate chips, it's a very basic recipe.
This time, for add-ins, I did 50% coconut shreds, and 50% chopped craisins.They are amazing! It also went really well with the coconut oil.
Some add-ins I'm planning on doing are: walnuts and a little extra honey; oatmeal; carob chips and craisins; dried apricot pieces; and sliced almonds.
For those of you interested in trying out the recipe, you can find it at
TheCookieWriter
.