I was recently researching "how to start a clothing line" and I came across an absolute gem: French Minimalism. Yeah, it's trendy right now, but that is not why I like it. The whole style is so simple, so put together, so polished! And I love that sort of stuff!



Basically, French Minimalism is a style inspired by (made by) French ladies who look ultra chic. It is based on a wardrobe of tailored clothing, largely in neutral colours. Sound boring? Yeah maybe... but you're forgetting the accessories. The colour, the pop, the pizaz, is added in colourful accessories.
So all your clothes go with all your clothes, and all your accessories goes with all your clothes, and you can make a thousand different looks just by changing what accessories you pair with what.
It's so cool!
Because I can't really make myself a French Minimalism wardrobe (as much as I want to...) I went for the next best thing and made a French Minimalism capsule wardrobe for Elisabeta. "Hey," Elisabeta says in protest, "What do you mean, second best?" (stands there with hands on hips). Oops... sorry Elisabeta. Rephrase: Because I can't make myself a French MInimalism wardrobe, I chose the BEST option and made one for Elisabeta. "Much better..." Elisabeta says.
I chose a skirt, a pair of pants, overalls, two shirts, a coat, sneakers, and a few accessories and made the following outfits (I could have made many more, but I only had thirty minutes, and each outfit takes about five minutes to put together and photograph):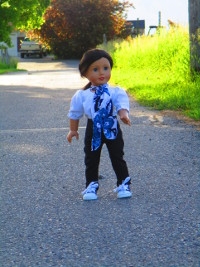 This lovely picture is Elisabeta wearing her black pants, sneakers, white blouse with puffed sleeves, and her scarf. "I look fantastic," Elisabeta says.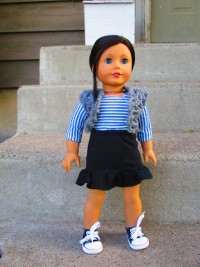 Now she is on the front steps of my home, ready to start a new adventure and a new day.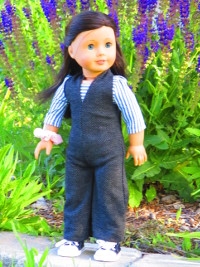 In a stripy shirt and her overalls, Elisabeta looks very nice framed by the purple flowers in bloom behind her. "I look like a goddess in this photo" Elisabeta says approvingly.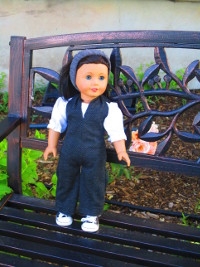 In white blouse and overalls, Elisabeta is standing on the metal bench in our front yard.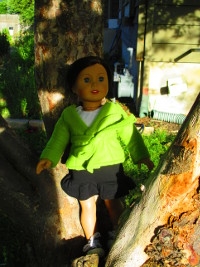 Wearing a short frilly skirt, a coat, and her blouse, Elisabeta is climbing a tree. "Very impractical pose," she comments. "Why couldn't I have done that one in a pair of pants?"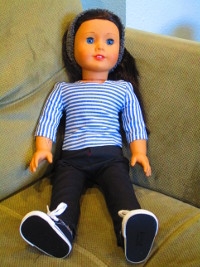 In her stripy shirt and black pants, Elisabeta reclines on the couch. She offers no comment, being mad about what she calls 'poor lighting.'