Hola, folks!
Alright. It's been a while since I've posted... so I'm going to catch you up to date.
Wednesday, July 1
Wednesday was pretty ordinary. I worked on my Camp Na-No-Wri-Mo novel, and wrote about 4,300 words (my goal for Wednesday was 3,716). I ate, I slept, and basically just wrote my novel. Oh, and my bedroom floor was almost clear.

AND
I put thorn guards in my bike tires... almost all on my own! ~listens to applause~
Thursday, July 2
Yesterday was sort of an adventure. I wrote in my book (about 2,500 words of my 3,716 words goal), I ate, I drank a lot of water, I did some extra work for money, I weeded in our family's garden.
I also wrote and sent out The Young Scholar's Gazette (a little bi-monthly magazine I do just for fun that I send to a few of my friends), which took me like three hours and is why I didn't make my word count goal.
And then in the evening, I made some doll shoes!
We will now talk about doll shoes.
So, I used a pattern by
HappyBankkyCraftyMom
and foam I got at
HobbyLobby
, a hot glue gun, and cardboard I found in our recycling box.
(looking everywhere for my camera so I can take pictures of the really cute doll shoes I made)
(finally found my camera)
Elisabeta's blue shoes! She absolutely adores them. I think they are her favourite summer shoes.
Okay, so I made a darkish-grayish blue pair first. I really like how they turned out, and I love the pattern! Really easy to use, with a simple and classic design.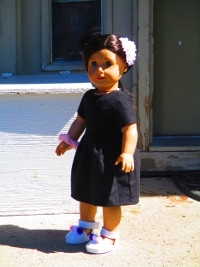 The white shoes are SO impractical, but they're still really cute!
The second pair are white with pom-poms for a fun touch. A bit more playful, they are also not that great to play in because they are white (what on earth was I thinking of?) but that's fine because Elisabeta doesn't really play that much. She likes reading, writing, making sarcastic comments, looking beautiful, and taking naps. She definitely doesn't like mud.