So a week ago or so, I made a pecan pie. And I still haven't told you guys? I'm sorry, I'm really behind in posts. I've made three new garments, and an accessory, as well. Oh, and my Etsy shop is up. And life has been really busy, so I haven't had time to write about it.
Alright, about the pie:
I used
Detoxinista's
recipe for
pecan pie
, and it was amazing!
It's very simple, and relatively healthy! Well, for a desert.
Changes I made: I used 3/8 cups honey and 3/8 cups maple syrup instead of 3/4 cup maple syrup.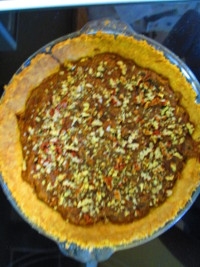 This is the pecan pie I made. I used Detoxinista's filling recipe, and a pat-a-pan piecrust recipe that my mom has.